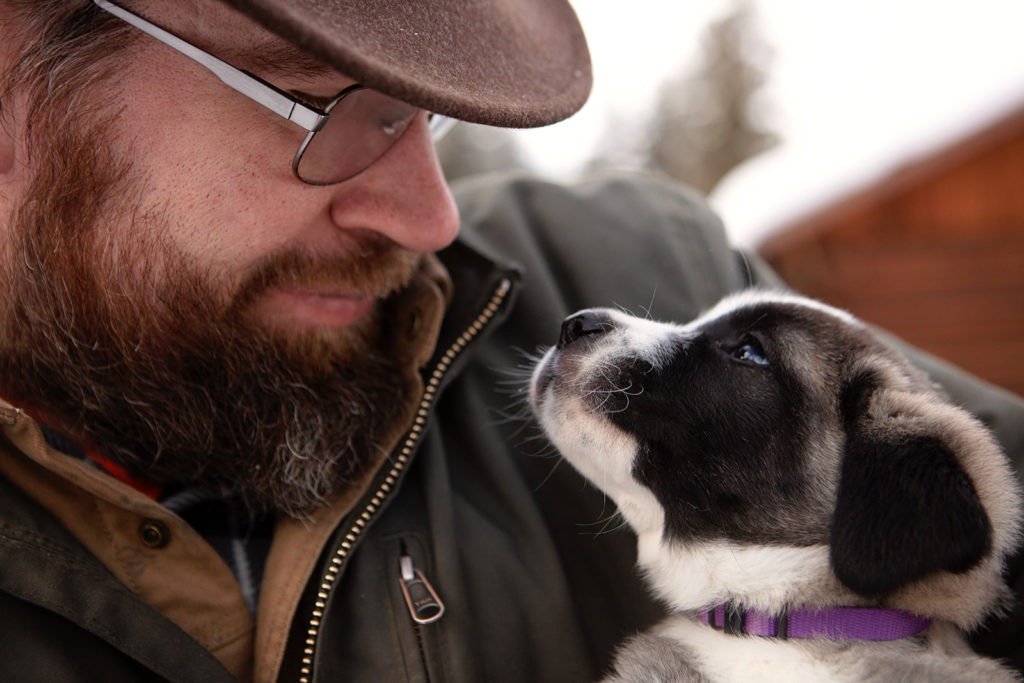 Before your puppy comes home…
At Apex Anatolians, we invest a lot of time into empowering confidence and recovery from stress in our puppies, rather than enabling or reinforcing undesireable responses to a variety of stimuli (or ignoring the puppies all together). We safeguard each puppy from actual danger and anything beyond their threshold throughout our curriculum and training. This 'puppy school' includes exposing each pup to a variety of novel sights, sounds, smells, sensations, and experiences with livestock prior to them going home with you.
We do this extra work with our puppies because the science behind a puppy's developmental stages tells us that the more experiences we expose them to before 12 weeks of age in a positive way, the more resilient and self-confident our puppies are for the rest of their lives. This is the time we have to make quick lessons that the puppy will generalize to other areas of their experience based on a single interaction. During the Generalization period, pups will extrapolate a positive (or negative) experience with a single goat to apply to all goats they meet going forward. This means if they are exposed to kind, dog-friendly stock before 12 weeks of age, the puppies will have positive associations with stock. Likewise, if they are injured, intimidated or have other negative experiences during this time frame, it can take more than ten positive experiences to help them overcome this generalization that "stock are mean."
We understand that each home is unique and do our best to work with our families to make sure they and their pup have the best transition period possible. Bringing a new puppy home is a big change, and your Apex puppy will have the groundwork behind him or her to adjust quickly to most situations. Our go-home day procedure varies from pup to pup and home to home. For example, a puppy going to be a family guardian will have a sooner availability than one going to live as a livestock guardian, unless there are established trainer LGDs already on site. A family dog doesn't need the extra weeks of livestock exposure and bonding time. They need to bond with their family!
What determines when your puppy will be coming home to you?
Intended Purpose!
Each Apex puppy is placed in an ideally matched home based upon their puppy aptitude evaluation and their new home's job they expect the pup to fill.

Livestock Guardian Dog– Working outdoors with livestock 24/7. This pup has been selected for his affinity for livestock and preference for stock companionship over all else in their evaluation process in week 7. These pups go home between 10 and 12 weeks of age, depending on the current situation at their new home.

Farm/Property Dog – Working in/outdoors on a property with or without livestock. This pup is evenly enthused by humans and stock animals and is driven to be with and protect both when evaluated. These pups usually go home around 10 weeks.
Family Guardian – Living primarily indoors with family. This pup is more interested in human contact than anything else. While he may do well as a stock or farm dog, his preference is people and we honor that by placing this pup in a family home where the people need a guardian. These pups benefit from more of their time spent bonding with their family, and go home after turning 8 weeks old.
In week 8, Natalie will let you know which pup best suits your needs and goals, at which point the method of your pup getting home to you will be determined. You have the following options to get your puppy home:

Farm Pickup – whether you are located near Apex, or you choose to travel here to pick up your puppy, you will have a scheduled time to come to our farm, meet Natalie and some of the critters!

Meet/Delivery – If you are unable to make it all the way to the farm, but would prefer to meet along the route OR have your puppy delivered by Natalie. This way your pup is transported by someone they know who understands biosecurity and how to safeguard your pup! *This option is available at a mileage rate less than any other ground transporter.
Air Cargo Shipping – If you happen to live further than convenient driving distance from Montana (and many of our clients do!) this is the quickest, lowest-risk transport option available to a  25+ lb puppy at 8-12 weeks of age traveling over 1000 miles. They will not fit in an in-cabin carrier when they are old enough to go home (we checked). *This option has additional expense including an air-approved plastic crate, cargo rate, and a health certificate from a Veterinarian within 10 days of travel.